A Christmas Card Donation from Gullands!
4 December 2017
Gullands Solicitors in Maidstone, a well-established law firm, has chosen The Street Soccer Foundation this Christmas as its local charity to make a donation to. We are delighted to announce the wonderful support shown, with a cheque for £750.
It was at a recent Breakfast meeting hosted at the K Sports complex where The Street Soccer Foundation now runs its Street Soccer Academy for Kent & Medway; where Gullands first came into touch with the work of our non-profit organisation.
Our Founder & CEO Keith Mabbutt, was presenting an overview of what the Street Soccer Academy offers to young people in and across the County, who are either currently homeless or at a risk of such through being long-term unemployed.
More young people across England and Wales are becoming homeless with the situation getting worse. A core reason for becoming homeless is long-term unemployment. Today, more than 1 in 7 young people (aged under 25) are currently unemployed in England. And the number of young people who are homeless has tripled since 2014.
Keith commented: "We help young people through the delivery of our nationally acclaimed Academy programme to achieve positive social change by using the power of football as a catalyst to improve their lives and their environment, supported by the delivery of employability education and the training of a positive mindset."
Over each 10-week course the Street Soccer team fundamentally seeks to have young participants believe in themselves and realise their true potential. Ultimately, our goal is to support young people into work, education or training. Changing Lives through Football.
Founder, Keith Mabbutt, went on to say: "We are very grateful for this donation from Gullands. Having first met with the company at our inaugural Breakfast meeting, I was privileged to be invited in to meet with the Partners to provide more of a detailed insight into what the Foundation does and how we do it. Following that meeting, I was genuinely bowled over when Gullands contacted me to say they would like to make a donation to Street Soccer as their chosen charity at Christmas. Their generous gift will help towards the cost of our pitch and classroom hire for the next Academy course we will run in the New Year."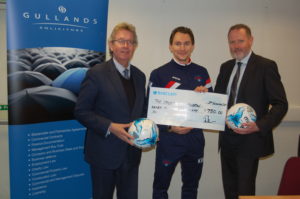 From Left to Right: Blair Gulland (Chairman, Gullands), Keith Mabbutt (CEO, Street Soccer Foundation) & John Roberts (Managing Partner, Gullands)
Paul Mannering, Practice Manager at Gullands commented: "We recently met Keith to find out more about the Street Soccer Foundation and he impressed us greatly with his drive and enthusiasm for the project. We wish him and the team well for 2018 and their next programme."
The Street Soccer Foundation will run the next Street Soccer Academy course for Kent & Medway from the end of January 2018. If you are a young person aged between 18-24 (male or female) and are either out of work, education or training, then please contact our friendly team for an Application Form to join the free course: hello@streetsoccerfoundation.org.uk.  Please note: Attending the Street Soccer Academy does not affect any benefit entitlement.
Further details about our newest Official Business Supporters, Gullands, can be found here: www.gullands.com/about. With a history spanning over 100 years, Gullands is part of the Legal 500 and Chambers and Partners. The company has grown in this time to offer a comprehensive set of legal services, including personal legal services and commercial legal services covering most aspects of commercial law and corporate finance. The Street Soccer Foundation is thrilled to count on their support.
Together, Changing Lives through Football.