Continued Success for the Street Soccer programme
1 May 2017
Continued success for the Street Soccer programme
The Gills Street Soccer programme is continuing to succeed in supporting young people in the local area who are experiencing homelessness or unemployment.
Running in Kent since September 2016, the 12-week Street Soccer programme incorporates football coaching, education, and mind-set training, developing core life and employability skills to help disadvantaged 18-24 year olds achieve positive social change in their lives.
Two cohorts have now successfully graduated from the Gillingham FC Street Soccer programme and the results have been overwhelmingly positive.  Several young people have gone on to secure jobs, nine have become Ambassadors for the Street Soccer Foundation, and two are currently going through their professional coaching badges with a view to becoming fully qualified football coaches.
The programme's second cohort graduated in April 2017, after 12 weeks of working hard on and off the pitch.  Alongside their football training with Gills Community Coach Dan Blewett, participants also received visits from local Kent-based companies including exclusive shirt Sponsors FM Conway, Metro Bank and IPS International, who spoke about employment and apprenticeship opportunities and how they can be applied for. The group also enjoyed an exclusive opportunity to tour MEMS Priestfield Stadium.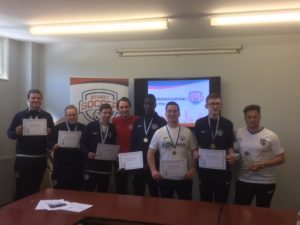 One graduate, 21-year old Michael, had been homeless for six months before he joined the Gills Street Soccer programme, but has since benefited greatly from being involved. He has now become a Street Soccer Ambassador, and has also been invited for a job interview in London following his employability training during the programme.
Speaking to KMTV during his final session, Michael said: "[The programme] has definitely changed my life; I'm more positive, and feeling more like I want to go for a job."
Following their final session, the graduating participants were invited back to MEMS Priestfield Stadium for the Gills' final home game against Fleetwood Town FC, as a chance to acknowledge, celebrate and reward their success on the programme.
Keith Mabbutt, CEO of The Street Soccer Foundation is confident that with the help and engagement of the local Kent business community, the programme can continue to achieve fantastic results. He said: "There are so many ways Kent businesses can get involved and show their support for the work the Foundation is doing. From becoming a Sponsor, giving a presentation on their company to our group, or by holding a fundraising event for us such as a Quiz Night, Fun Run or even allowing us to host a 5-a-side football tournament for their organisation and perhaps invited business associates or even customers of theirs."
The recent inaugural Gills Street Soccer Charity Quiz Night was a great success, raising £250. Eight teams joined in the fun at Star Meadow Sports Club, with the eventual winning team generously donating their prize money back to the cause, helping the event to raise even more towards changing lives through football. A special thank you to Star Meadow Sports Club for hosting the quiz night, and to TESCO in Rainham for their generous raffle prize donations.
Following the success of the second cohort's graduation, the Gills are looking forward to the Street Soccer partnership continuing and growing across Kent, with plans in discussion to launch new and additional programmes in other areas of the County. Watch this space!
For more information about the Street Soccer programme, or how you can get involved and support, click here.  You can also follow @StreetSoccerCIC on Twitter for more updates.
The Street Soccer Foundation: Changing Lives through Football.