Gillingham FC Street Soccer Programme Going from Strength to Strength to help tackle Homelessness in Kent
28/11/2016
Gillingham FC Street Soccer Programme Going from Strength to Strength to help tackle Homelessness in Kent
Gillingham Football Club and its Community Trust has joined forces with The Street Soccer Foundation to help young people experiencing homelessness in Kent.
The collaborative project launched in October this year and is being sponsored by Kent-based firm, FM Conway.
10 young people, all currently experiencing homelessness, began the 12-week football-themed development course, which offers enterprise and employability training sessions to help achieve positive social change.
More young people across England and Wales are becoming homeless with the situation getting worse. Recent statistics estimate that at least 150,000 young people have approached local authorities for help because they are homeless or at risk of becoming homeless.
The Street Soccer Foundation is the brainchild of Kent-born serial entrepreneur, Keith Mabbutt. Keith attended Maidstone Grammar School between 1992-1997, and went on to launch his first recruitment business in 2002 in the County town.
Keith said: "I formed The Street Soccer Foundation last Summer after hearing about the damning statistics within the homelessness society and particularly the state of the matter concerning young people. When the situation occurs, individuals can become socially isolated and it can create barriers to education, training and paid work. I wanted to do something about it and with my experience in recruitment and helping other young people launch their own start-up businesses, The Street Soccer Foundation came to life."
Using the power of football, the Street Soccer programme educates, inspires and motivates youngsters to improve their lives and their environment. It incorporates football coaching, education, and pathway progression, developing core life and employability skills on the pitch and in the classroom.
Having previously played at Gillingham FC but not quite making the grade to become a professional footballer himself, Keith wrote to the club Chairman, Paul Scally, enquiring about a partnership to help young people in Kent.
Shortly thereafter, the Foundation met with the Gillingham FC Community Trust who were immediately impressed with the project idea and agreed to team up.
Adam Lawrence, CEO of Gillingham FC Community Trust, said: "We are absolutely delighted to have the opportunity to partner with the Street Soccer Foundation to develop this project in Medway and Kent.  Having seen the positive work Street Soccer has completed elsewhere we really wanted to be a part of the project, and as Gillingham is the sole Professional club in Kent, it is important that the Community Trust shows its support to such a great cause."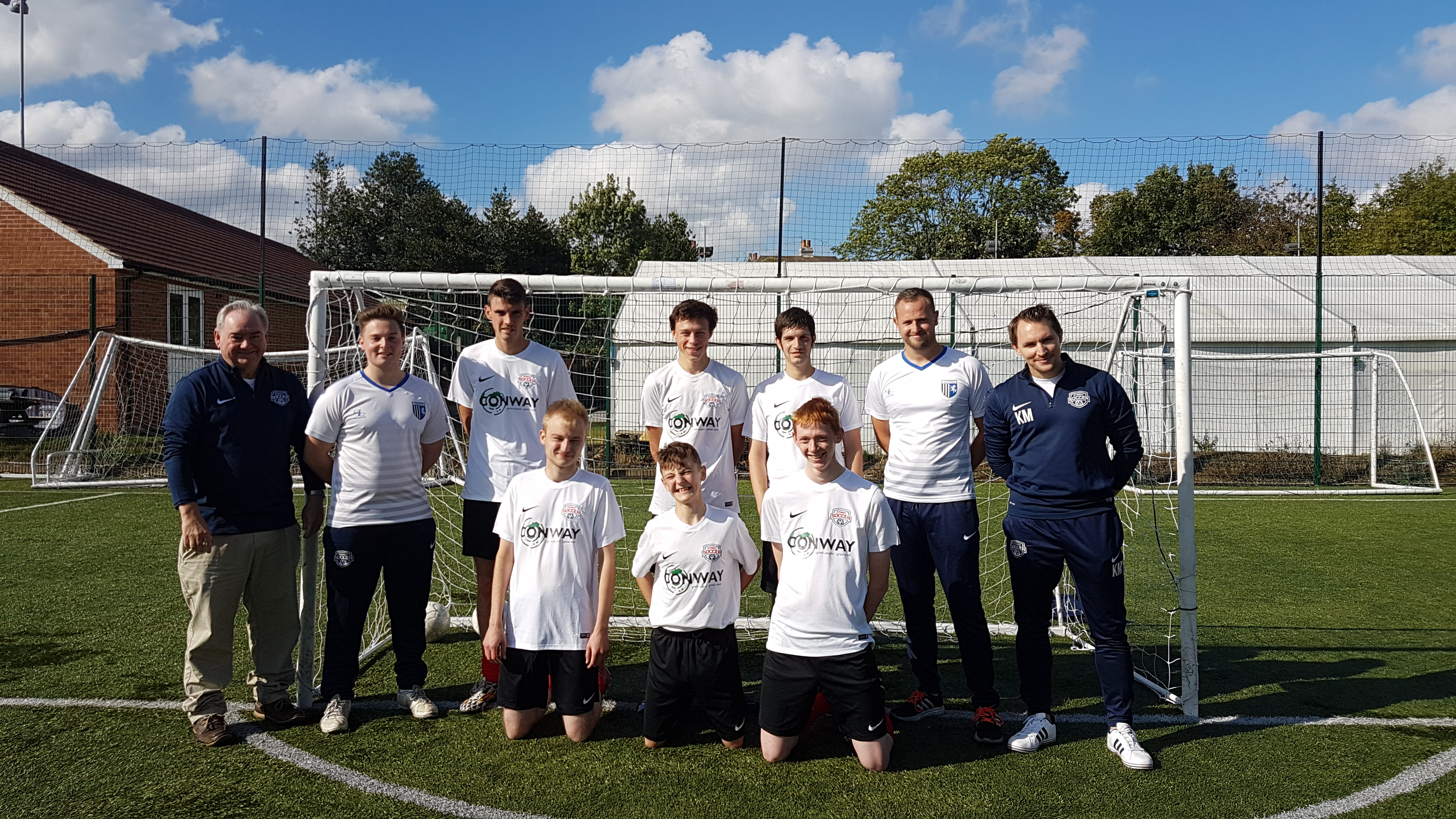 The programme is now over the half-way point, but the impact is already apparent.  Regular participants show their commitment, travelling independently from across Kent to join in at Star Meadow Sports and Social Club in Gillingham.
There's clear progress being made on and off the pitch, with one participant, 22-year old Kieran Lee, having secured full-time employment following his participation. Kent girl Jodie Coombes, who took part in the inaugural Street Soccer programme with West Ham United earlier this year and went on to represent England Ladies in this year's Homeless World Cup in Glasgow, has also been coming back to support and inspire participants, and there's hope with the visit of the England Street FA, which manages the Street Football Team England, an official partner of the Football Association, that some of the Gillingham FC cohort might follow in her footsteps to represent England in Oslo next year too.
Michael Conway, chief executive officer at FM Conway, the 2016-17 shirt sponsors of the programme, said: "We are proud to be a supporter of the Gillingham FC Street Soccer programme. Schemes like this offer an invaluable chance to empower young people by giving them the skills they need to help them get ahead. Kent has been an important part of FM Conway's history and we are pleased to be able to make this contribution to the lives of the county's next generation."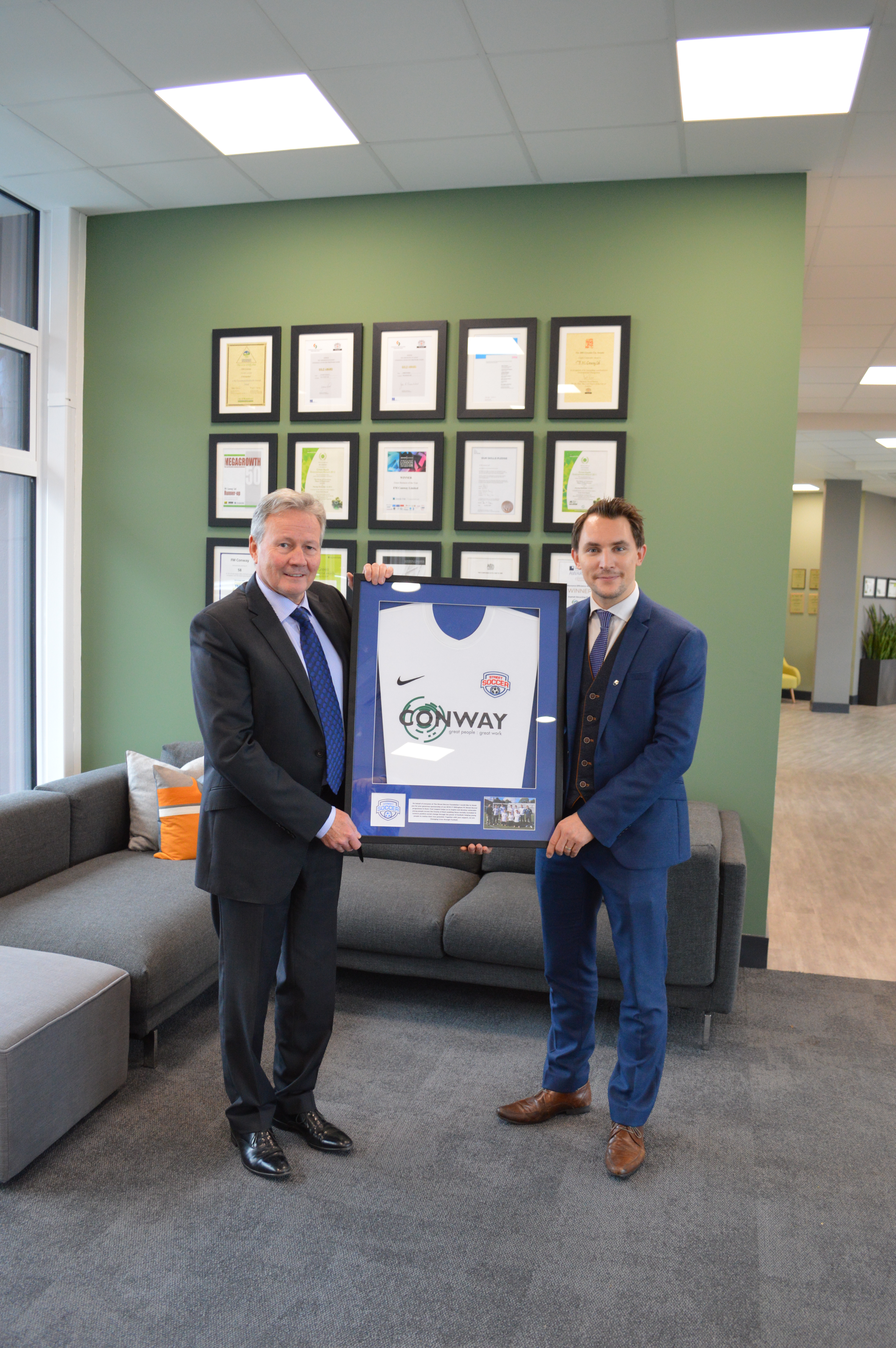 Michael Conway, CEO of FM Conway (left) being presented with an exclusive framed shirt by Keith Mabbutt, Founder of The Street Soccer Foundation
CAN YOU HELP? The Street Soccer Foundation is dedicated to ending homelessness. By becoming an official Sponsor or Member, you will be helping to support and develop a greater number of vulnerable young people across Kent by enabling the Foundation to organise and deliver more Street Soccer development programmes throughout the footballing season each year. To become an official Supporter from as little as £3 per month, please visit https://streetsoccerfoundation.org.uk/supporters/. Businesses can support too from just £35 per month.