December 2017
The latest Street Soccer Academy group of young people from Kent & Medway have now successfully graduated the Street Soccer development course.
Run in partnership in the County with Football League side, Gillingham FC, the Street Soccer Academy is a 10-week personal development programme for young people aged 18-24 who are currently out of work, education or training and at the same time could be experiencing homelessness.
Last year, the Kent partnership between The Street Soccer Foundation and Gillingham FC successfully graduated two groups of young people, achieving 16 graduates in total from 20 starters, over two separately run courses. All sixteen young graduates successfully achieved a 'progression'.
For this season, with the continued support from local Kent firm, FM Conway, again named as the exclusive sponsors of the Street Soccer playing shirts; the Foundation has now completed the first Academy course of this term, achieving 14 graduates from 16 starters.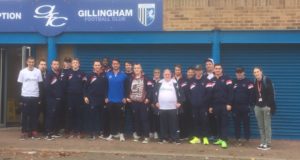 The 2017/18 Street Soccer Academy participants at Priestfield Stadium
Through the delivery of the nationally acclaimed football-themed personal development programme, the Street Soccer Academy enables selected young participants aged 18-24 (male and female) to achieve positive social change by using the power of football as a catalyst to improve their lives and their environment.  Delivered in day sessions once a week throughout the duration of the course, the programme is a fully structured employability-driven course.
Upon graduating the Street Soccer Academy the core aim is to secure for participants at least one of five 'progressive pathways', and to mentally equip young people with the right skills to become an asset to an employer. The 5 pathways are: a) Job; b) Education / Further Training; c) Traineeship; d) Apprenticeship; or e) Voluntary.
Thirteen of the 14 graduating young people attended at least 8 out of 10 sessions during the period (93%), with 4 young people attending all 10 sessions and 6 young people attending 9 out of 10 sessions. Following a programme evaluation, 86% of course participants (12 out of 14) stated IMPROVED SELF-CONFIDENCE, that they FEEL MORE POSITIVE and MORE AMBITIOUS.
From the 14 graduating young people, a total of 7 have been selected to become Official Young Ambassadors for The Street Soccer Foundation. Academy Director, Keith Mabbutt, said: "The group of young people on the course were a credit to themselves. It's always a relatively mixed bag of characters and talent but the common theme among the young people who get selected to come onto our Academy course are those who genuinely want to improve themselves and carve out a better future pathway. We're privileged to be able to help support the course participants and I was delighted to have our team hand pick half of the group to become official Ambassadors for the Foundation."
A total of 4 young people have secured some form of paid employment.  Two young people have secured a place on a Traineeship, with a view to securing a nationally recognised Coaching qualification.  And another 7 young people have progressed into a mixture of educational avenues: one is re-doing his Maths GCSE; another has secured a place on a Lifeguard course; one is to start on a Coaching course in the New Year; and four others have been referred to a Specialist Training Provider for additional skills training in order to help achieve job interviews with employer clients.
As a result, all 14 course graduates have achieved a progressive outcome (100% success).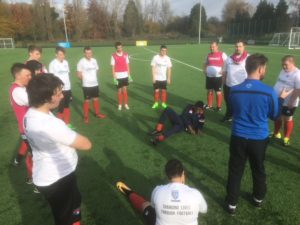 The Street Soccer group in a football coaching session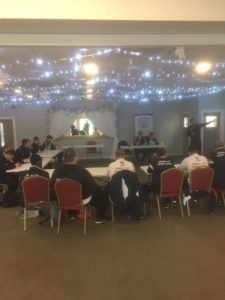 The Street Soccer group during a Workshop
All of us at The Street Soccer Foundation would like to congratulate each of the 14 successful graduates of the Gillingham FC Street Soccer Academy and we look forward to further supporting the individuals in the immediate future to reach their personal goals.
** The next available Street Soccer Academy course will run from the end of January 2018. If you would like to recommend a young person or if you yourself are a young person currently out of work, education or training, and are aged between 18-24, please contact us for an Application Form to join the next Academy programme: hello@streetsoccerfoundation.org.uk.