The Supermarket giant comes on board to support the Street Soccer Foundation to help feed more than 1,000 children across Kent this Summer
The Street Soccer Foundation recently announced it is to be a lead delivery partner in Kent to UK Government with the launch of a series of free-to-attend 'Street Soccer Summer Camps' across Kent and Medway from the end of July.
The award-winning Kent based sport-for-change charity, the Street Soccer Foundation, has come a long way since forming in 2015 and now operates in communities nationally across England using football to attract, engage and develop lasting impact in the lives of vulnerable young people and their families.
On 8 November 2020, the Government announced that the Holiday Activities and Food (HAF) programme will be expanded across the whole of England in 2021. The programme has provided healthy food and enriching activities to disadvantaged children since 2018.
School holidays can be particular pressure points for some families because of increased costs (such as food and childcare) and reduced incomes. For some children that can lead to a holiday experience gap. Free holiday clubs are a response to this issue and evidence suggests that they can have a positive impact on children and young people.
Following what has been a challenging year for many, the Street Soccer Foundation has made a commitment to run its new Summer Camps and activities daily throughout all of August this year, forming a team anticipating to support and feed over one thousand children between the ages of 5-15 during the period.
As a result of delivering its Summer Camps predominantly across Medway, the Street Soccer Foundation want children attending to eat more healthily, be more active, take part in engaging and enriching activities which support the development of resilience, character and wellbeing, and have a greater knowledge of health and nutrition, and be more engaged with school and other local services.
Keith Mabbutt, Founder and CEO of the Street Soccer Foundation said: "The launch of our Summer Camps programme marks an important milestone for the Street Soccer Foundation. Kent is our home County, and we know how devastating the effects of the pandemic have been for some families and their children. We are targeting to serve more than 8,000 lunches throughout August helping to feed more than 1,000 disadvantaged children across Kent and Medway. Because of this I approached Tesco to see whether they could team up with us and I was delighted at their response – with their agreeing to donate £1500 towards the provision of food and refreshments from their local stores across the County. We're hugely grateful for their support."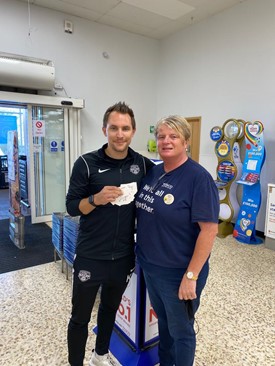 Mary Daly, Community Champion, on behalf of Tesco said: "Tesco are very proud to support the Street Soccer Foundation. This is a great cause and this programme is incredibly important for children and families. We look forward to supporting the Street Soccer Foundation in the future and with this donation we demonstrate that every little bit truly does help."
The Street Soccer Summer Camps are taking place in various locations across Kent and Medway from Monday 26th July running through to Friday 27th August. To book a place for your child or children, email: camps@streetsoccerfoundation.org.uk.
ENDS
About the Street Soccer Foundation
The Street Soccer Foundation is a sport-for-change charity which uses the global no.1 sport as a catalyst to improve the lives of vulnerable and homeless young people across the country.