Each young person comes to us with a different starting point with different needs and aspirations, so every time The Street Soccer Foundation is supporting a young person's individual journey - whether that be through our Academy or Schools' programme.
The Street Soccer Academy
The Street Soccer Academy is the No.1 football-led project tackling youth homelessness in England. Our flagship programme comprises a 10-week development course which supports each young person over a sustained period of time to achieve their chosen goals, which could be employment, education or further training. It provides a fusion of professional football coaching for health and well-being purposes and our 'Skills to Succeed' employability-driven workshops - with mentoring support offered throughout the delivery of the programme, provided through our Mentoring Club: volunteer business professionals and/or Academy Sponsors.
Football is the national sport and is an incredible engagement tool. From the moment one of our coaches walks out onto the pitch with a bag of footballs, it can immediately trigger positive emotions in young people. And football as our core sporting practice ensures that from the very first session, everyone together is helping others: CHANGING LIVES THROUGH FOOTBALL.
"The Street Soccer Foundation is brilliant, the way it uses football as a positive force to help vulnerable young people out of homelessness and unemployment and into a pathway that's right and relevant for them. Football has the power to achieve so much for these young people".

Mickey Ambrose, Former Footballer & Chelsea FC Ambassador
Delivered together with our professional Football Club community partners, the Street Soccer Foundation is registered on the UK Register of Learning Providers (UKPRN: 10065113). Throughout the course we provide the training of a positive mindset to help build confidence, self-belief, aspiration and emotional intelligence. The programme educates, inspires and motivates young people by achieving high levels of engagement, which then sets a precedent for the interaction, learning and commitment from all involved.
MENTORING SUPPORT FOR OUR YOUNG PEOPLE
Through our Mentoring Club, we further assist the development of the young people we support by providing mentoring sessions, delivered either as group "Team Talk" sessions or 1-to-1 sessions as required. Moreover, once a course has been completed, we further seek to help individuals secure at least one of five progressive pathways, for which mentoring support can often continue. We endeavour to ensure each young person coming through a programme is mentally equipped with the right skills to become an asset to an employer.
Further Training/ Traineeship
Work Experience / Volunteering
We are extremely proud to have initially launched the Street Soccer Academy in 2015 in partnership with Premier League Football Club, West Ham United and the West Ham United Foundation. Helping to support vulnerable young people from across the East London Boroughs surrounding the Club.
After receiving national acclaim from the likes of The Premier League, PFA, FA, the BBC and ITV, the Street Soccer Academy is now delivered across the Country through various delivery partnerships with professional Football Clubs and their community teams.
If you represent a Football Club and would like to run the Street Soccer Academy programme during the season for the benefit of vulnerable and homeless young people in your local community, please Contact Us.
"Football and mindset coaching are the integral elements to the Street Soccer Foundation and helps to make both the Street Soccer Academy and Schools' programmes stand out as a unique opportunity and experience for young people to make a positive social change."

Adam Lawrence, COO, The Street Soccer Foundation
What makes the Street Soccer Academy so successful?
There are a variety of factors which make our programme so successful at supporting young people into work and further training, including:
Using the power of football to engage, motivate and build skills
Supporting young people with personal development and overcoming individual barriers
Supporting with employability skills
The enjoyment of the programme - young people want to stay on the course
Assessment of which pathway will best suit a young person once they graduate the programme
Mentoring & Mindset - this training and support combined is the underlining successful ingredient: enabling the vast majority of the young people we bring onto a programme to truly execute on their learnings and have a genuine desire and belief to make things happen for themselves.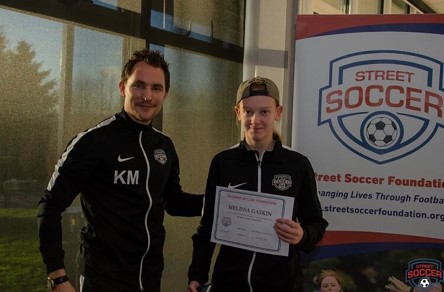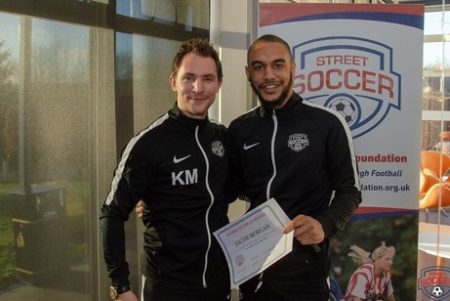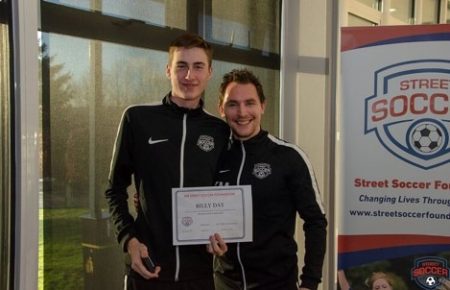 "Street Soccer helped me massively. They supported and encouraged me so much. The team at Street Soccer helped me to realise that I can do anything I want if I put my mind to it"
"Absolutely brilliant – I gained more confidence within myself and also made new friends. It was an experience I will always remember"
"Life changing"
(Street Soccer Academy Exit Surveys 2019)
Each Street Soccer Academy course focuses on a layering process with a 'TEEM' approach, following the same format:
These skills denoted above are equally applicable to employees in their first years of employment or those making a radical career change.
"Street Soccer helped me by building my confidence. Before the course, I did not want to socialise but now I am keen to take every opportunity that comes my way. I enjoyed the whole course."
Young person's Exit Survey - 2019
The Power of a Positive Mindset
Having the right, positive mindset is a crucial internal attitude for young people. Through our training of such, course participants will begin to believe in themselves and in their capacity to reach their goals and thus increase their own learning and development success.
Our Course Tutors will seek to nurture relationships which can provide an environment whereby course participants have a sense of belonging, a place where they feel connected. As such, the ground work is laid to enable a positive self-perception to develop and a pathway to achieve.
Engagement is a habit of mind and heart - and physical, mental, and emotional health support engagement and learning. This is the underlying reason why we achieve such high levels of success on the Street Soccer Academy programme.
"The greatest discovery of our generation is that human beings, by changing the inner attitudes of their mind, can change the outer aspects of their lives." 
Our Mindset work sessions tackle a variety of modern-day business issues:
Passive and active disengagement
Conflict in and between teams
Bullying, stress, frustration and anxiety
Improving performance is about changing what we do – with a positive Mindset, people change willingly.
Our Mindset coaching seeks to provide an 'ABC' for every young person we support: Accelerated Behavioural Change.
PLEASE NOTE: The Street Soccer Foundation operates an Application & Selection Process for our 10-week Academy courses.
Want to join an Academy? Or would you like to recommend or refer someone to us? Please contact our friendly team.
Our Academy supports 16-25 year olds who are currently experiencing homelessness, including those who are out of work, education or training (whilst we work with Schools across the Country to run a similar version of our Academy: The Street Soccer School. This is for dis-engaged students of varying ages and Year groups, typically up to 16 years of age).
Does it really work?
YES! The vast majority of young people coming onto our Academy programme since 2015 have successfully moved into Work, Education or Further Training following the completion of their course.
Check out our Case Studies section to read about some of the young people we have supported.
SIGN UP TODAY. It's one click to change your life…
REGIONS WE CURRENTLY SUPPORT
The Street Soccer Foundation is proud to have the (non-financial) support from the PFA, as well as the Football Association, Premier League and EFL, and to be partnered with a number of professional football league clubs representing both The Premier League and The English Football League.
Our nationally acclaimed Academy programme is specifically delivered in partnership with coaching teams from within the charity arm of each Football Club partner of ours, be that a Foundation or Community Trust. Here below are our current Football Club partnerships established across the country to help communities nationwide:
The Street Soccer Academy courses are FREE and open to any young person currently homeless or unemployed, male or female, aged between 16-25. Course dates run during the football season normally between September to December, and January to May. As part of the delivery, we provide a free Lunch to all participants at each session, a full Street Soccer playing kit (shirt, shorts and socks), and an opportunity to experience a private Stadium Tour of the professional Football league Club we partner with to deliver the local programme. Attending sessions does not affect individual benefits.