Street Soccer Academy graduate secures job at Barnet FC
8 November 2017
Michael King (21), of Gillingham, has now secured a full-time role at Barnet FC, following his recent graduation from the (Kent & Medway) Street Soccer Academy.
Sponsored by Kent firm FM Conway, the Street Soccer course incorporates football coaching, employability training, and pathway progression. Run over 10 consecutive weeks, the personal development programme has been running in the county in partnership with Gillingham FC and the club's Community Trust since September 2016, with the aim to support disadvantaged young people to achieve positive social change through the power of football, serving as a catalyst to improve their lives and their environment.
21-year old Michael had been homeless for six months before he joined the Street Soccer Academy. On successfully graduating the course in May 2017, he was made a Street Soccer Young Ambassador, and was quoted as saying: "The programme has definitely changed my life; I'm looking more positive, and feeling more like I want to go for a job."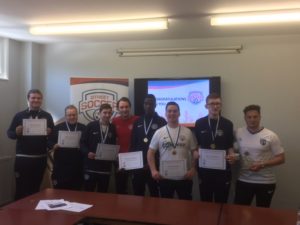 Michael King pictured far left, with other Street Soccer Academy graduates from 2016-17
Fast forward six months, and Michael has now obtained a full-time position with Barnet FC.
Before Michael joined the Street Soccer Academy he had been experiencing a difficult time and had had a few personal struggles. Michael didn't think he'd get selected onto the Academy when he applied and was nervous about meeting other people and those who were running the course, as he was keen to impress and do well.
Keith Mabbutt, Street Soccer Academy Director, said: "I spoke with Michael before we accepted him onto the course. He was concerned about whether he would get selected as he has a back problem which means he uses a walking stick. I invited him to join us on a Taster Day which we ran before the course started, to give him a chance to meet our delivery team and get a feel for what would be involved. After we met him, there was no doubt we wanted to help support him. He is a brilliant young man with a great deal to offer. Throughout the course he was an exemplary member of the team and was always asking questions on how he could improve and create opportunities for himself. He was a natural choice to become one of our Young Ambassadors and I'm absolutely thrilled for him that he's secured a role with Barnet FC. They're fortunate to have him and I wish Michael and Barnet great success going forward."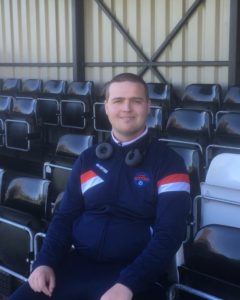 Michael King
Following his success, Michael spoke of how the Street Soccer Academy had made such a positive impact for him. He said: "The Street Soccer course helped me become more work ready. I felt more able to get into employment. More ready to do it. When I was named an Ambassador it made me feel important and gave me extra confidence. I'm able to share my experience of the course with others and inspire people. Now, I cannot wait to get started with Barnet FC and I would recommend the Street Soccer course to everyone. It really helped me and I loved it."
Barnet FC have even offered to move Michael into local digs so he doesn't need to travel from Gillingham in Kent to Barnet each day. The future certainly looks a lot brighter for Michael and everyone involved with The Street Soccer Foundation, including our Sponsors, Supporters and Partners, wishes Michael every success.
The Street Soccer Foundation is a charitable non-profit Community Interest Company (CIC) dedicated to helping support and develop young people (aged 18-24) currently experiencing homelessness and those at a severe risk of homelessness (for example, long-term unemployed), in and across the South East of England. Could you help? Please check our Supporters page and get in touch with us today: www.streetsoccerfoundation.org.uk/supporters.